»

Household

»
5 Awesome Ways to Use a Water Ionizer!
5 Awesome Ways to Use a Water Ionizer!
Over the last few years, household hacks have been getting massive attention on social media. These hacks have helped people save time and money while making their everyday tasks around the house easier to complete. Reading about these hacks makes us think of the unique ways that a water ionizer can be used at home!
Have you ever wondered how you can eliminate over half of your skin, hair care, and household cleaning products AND save tons of money? You can when you purchase a water ionizer for your home!
A water ionizer can produce different pH levels of acidic and alkaline water for various health and household uses.
Here are 5 awesome ways to use a water ionizer at home:
Mild Alkaline Water – best for drinking
Mild Acidic Water – best for hair and skin care
Moderate Acidic Water – best used on most houseplants and flowers
Strong Acidic Water – best used as a household disinfectant
Strong Alkaline Water – best used for removing oil-based pesticides and stains
5 Awesome Ways to Use a Water Ionizer!
Mild Alkaline Water
Water ionizers are primarily used to create mild alkaline water at pH levels between 8 and 9.5 for drinking and contain many health benefits.
Some of these health benefits of alkaline water include:
Some high-quality water ionizers can make alkaline water that contains molecular hydrogen and is chock-full of antioxidants and essential minerals that your body needs.
You can even drink alkaline hydrogen water before, during, and after a night on the town to reduce your risk of getting a hangover in the first place!
Mild Acidic Water
Aside from producing alkalized water, some alkaline water machines can also produce acidic water at mild, moderate, and strong pH levels.
Mild acidic water is water at pH levels of 5-5.5 that are used primarily for beauty purposes such as hair and skin care.
5.5 pH acidic water can help dissolve skin oils and tighten your skin when you apply this water on your face and skin. You can also keep your skin radiant and looking younger by regularly spraying this rare and beautifying acidic water on your skin.
By storing mild acidic water from your water ionizer in spray bottles, you'll be able to ditch astringents and chemical-based cleansers that can harm your skin and cause wrinkles.
Moderate Acidic Water
Moderate acidic water has pH levels between 4 to 5 that work best on most houseplants and flowers.
Most houseplants thrive better with acidic water…so if you want your home garden to flourish, having a water ionizer at home would surely help.
Freshly cut flowers also get a boost from moderate acidic water. You can put acidic water in your flower vase instead of tap water to keep your flowers looking fresher for around three times longer.
Strong Acidic Water
Some premium water ionizers can reach strong acidic pH levels between 2.5 to 3 for various cleansing uses around the house.
Strong acidic water is approved to be used as a disinfectant to clean and sterilize:
Household surfaces
Toilets
Bathrooms
Kitchens
Trash cans
Toothbrushes
Having a water ionizer at home that can make strong acidic water means you don't have to purchase cleaning acids that can be difficult to safely store away from your kids and pets.
You can also use strong acidic water to fight acne and eczema and to help heal any scrapes, burns, and cuts on your body.
Strong acidic water is not safe for consumption – so we suggest that you only produce this water when needed.
It's worth noting that Kangen water machines require the use of a special "electrolysis enhancer" that includes Sodium hypochlorite (better known as "bleach"). Who wants to drink water infused with bleach?
We recommend that you look for a water ionizer that can make strong acidic water without the use of chemical enhancers, such as Tyent.
All Tyent water ionizers are chemical-free, ensuring that you don't need to worry about flushing the ionizer after each use.
Strong Alkaline Water
On the opposite end of the pH scale, some water ionizers can make strong alkaline water at high pH levels of 10 and above. Some premium water ionizers (such as Tyent) can even make strong alkaline water at pH levels up to 12 without the use of chemicals.
Strong alkaline water is best suited to remove oil-based pesticides from your favorite fruits and vegetables that regular tap water can't remove.
Just soak your fruits and vegetables in strong alkaline water for 10-30 minutes to flush out all traces of pesticides and residual chemicals.
You can also dissolve any oil-based stains on your clothes, carpets, and other home surfaces by soaking them in strong alkaline water made from your water ionizer.
A water ionizer is the most awesome machine you can have in your kitchen!
We hope these 5 awesome ways to use a water ionizer machine have convinced you just how practical and helpful one of these machines can be in your home.
By having a water ionizer around, you won't just have unlimited access to the wonderful alkaline water benefits that can only come from using these machines. You'll also get to enjoy more radiant skin, cleaner fruits and vegetables, a flourishing garden, and a cleaner home.
There are so many awesome facts and other things to know about water ionizers…and we don't want you to miss out on them!
We put together this FREE Water Ionizer Buyer's Guide to help you learn about all their cool features – so check it out for your daily dose of reading!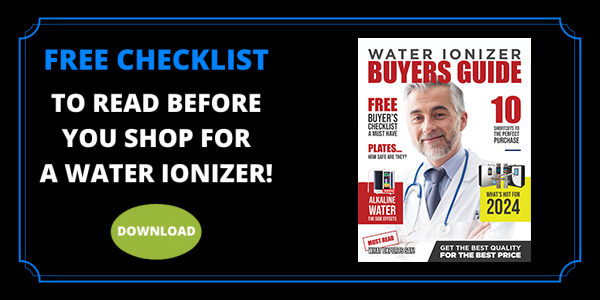 Do you have a household hack that you'd like to share with the world?
We'd like to hear about it!